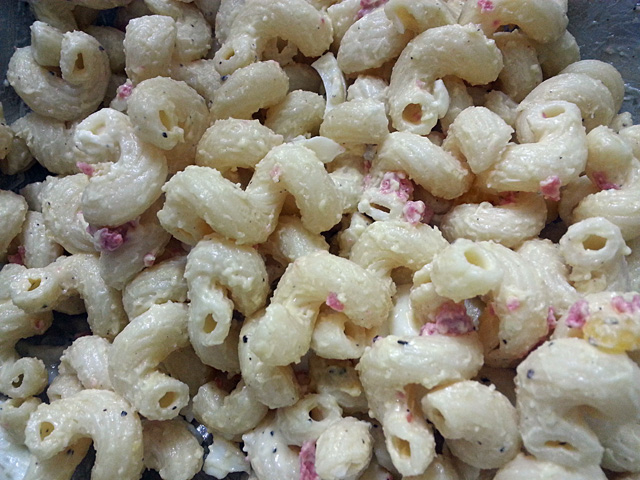 Ingredients
7 cups - Uncooked pasta (approx. varies with pasta shape)
1 cup - Mayonnaise
2 tbsp - White Vinegar
1/2 tbsp - Mustard
1 tbsp - Brown Sugar
1 tbsp - Bacon Bits
1/2 tsp - Fresh Ground Pepper
1/2 tsp - Salt
2 - Hard Boiled Eggs (peeled and diced)
1/2 cup - Celery (chopped/optional)
Prep.
Pasta quantity is based on spiral shape, you may have to adjust quantity for other shapes.
Boil pasta, drain, cool to room temp. and set aside.
Hard boil the eggs, peel and dice.
Directions
Mix all ingredients except pasta in a large mixing bowl.
Add chilled pasta into the large mixing bowl, mix till all the pasta is well coated.
Chill in fridge till serving time.
It always tastes better later in the day, or the next day, once all the ingredient flavours have blended together.