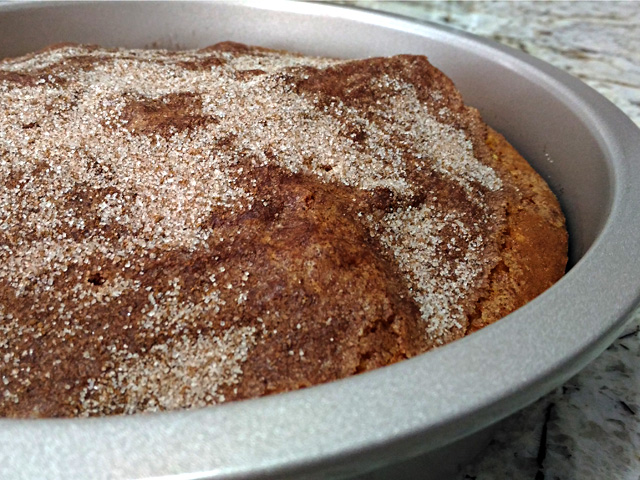 Topping
2 tbsp - Brown Sugar
1/2 tsp - Cinnamon
Ingredients
1 1/4 cup - Flour
1/2 tsp - Baking Powder
1/2 tsp - Baking Soda
1/2 tsp - Cinnamon
1/2 tsp - Nutmeg


3/4 cup - White Sugar
2 - Eggs
1/2 tbsp - Vanilla
1/4 cup - Vegetable Oil
1/2 cup - Buttermilk (or alternate)
1/4 cup - Chopped Nuts (optional)
Prep.
Preheat oven to 350 degrees F.
Grease 9 inch round cake pan.
Alternatives to real buttermilk:

2 tbsp Powdered Buttermilk to 1/2 cup of water.
1 tbsp Clear White Vinegar to 1/2 cup of milk or Soy milk.
Directions
Wisk together the topping ingredients in a small bowl. Set aside.
In medium sized bowl, whisk together flour, baking powder, baking soda, nutmeg and cinnamon.
In a large mixing bowl, combine sugar, eggs, oil and vanilla, beat well.
Beat in butter milk.
Add blended flour into creamed mixture. Beat until smooth.
Blend in optional chopped nuts.
Assembly
Pour the batter into greased 9 inch pan.
Sprinkle the mixture of brown sugar and cinnamon evenly over batter.
Bake at 350 degrees F for 25 minutes or until cake tests done.