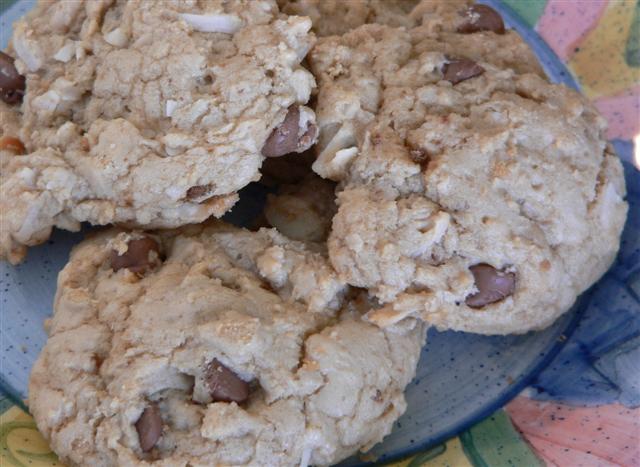 Ingredients
2 1/4 cup All-Purpose Flour
1/2 teaspoon Baking Soda
1/2 teaspoon Salt


3/4 cup Brown Sugar
1/4 cup White Sugar
1/2 cup Butter or Margarine


2 large Eggs
1 tbsp Vanilla Extract


1/2 cup Sweetened Shredded Coconut
1/2 cup Chopped Nuts)
1/2 cup Chocolate Chips (or butterscotch chips, or mini smarties, etc.)
Prep.
Preheat oven to 300 degrees F.
Directions
In medium bowl, wisk together flour, salt and baking soda.
In large bowl, combine sugars, and softened/melted butter or margarine. Beat well till creamy.
NOTE: Do not use melted butter that is very hot, as it will start to cook ingredients before going into the oven, as this changes the texture of the dough.
And eggs and vanilla extract, and beat until smooth.
Add half the flour mixture and mix well, then repeat with the remaining.
Fold in coconut, nuts and chocolate/butterscotch chips or mini smarties.
Drop on ungreased cookie sheets using spoons.
Bake at 300 degrees F for 22 minutes or until bottom of cookies turn golden brown.
Remove from cookie sheets when still warm to cool on racks.