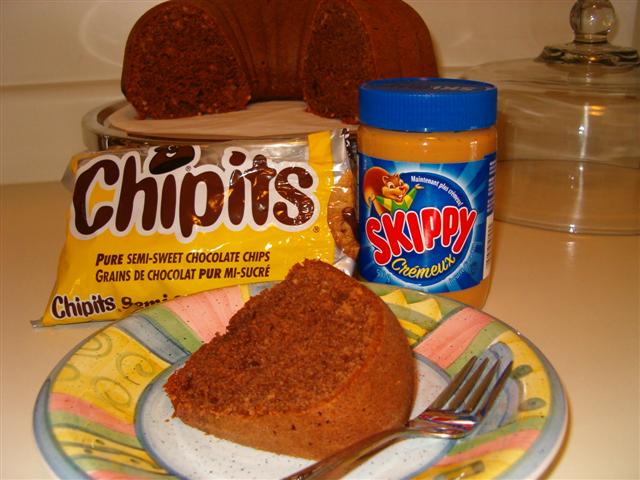 Prep.
Preheat oven to 350 degrees F.
Grease and flour Bundt cake pan.
Buttermilk Alternatives:

2 tbsp Powdered Buttermilk to 1 cup of water.
2 tbsp Clear White Vinegar to 1 cup of milk or non-dairy milk.
Ingredients
2 cup - All Purpose Flour
2 tsp - Baking Powder
1 tsp - Baking Soda
1 tsp - Salt
3 tbsp - Bakers Coco Powder
(or 1/2 cup melted chocolate chips)


1 cup - White Sugar
2/3 cup - Canola/Vegetable Oil
(or 1/2 cup butter or margerine)
4 - Eggs
1/2 cup - Peanut Butter
1 cup - Buttermilk
1/3 cup - Chopped Peanuts (optional)
Directions
In medium sized bowl, whisk together flour, baking powder, baking soda, salt and bakers coco.
In a large mixing bowl, combine sugar and oil, beat well.
Beat in eggs till smooth and creamy.
Beat in peanut butter (and melted chocolate if not using bakers coco.)
Alternate adding flour mixture and butter milk. Beat until smooth.
Blend in optional chopped nuts.
Assembly
Pour the batter into greased and floured Bundt pan.
Bake at 350 degrees F for 50 minutes or until cake tests done.
Top with Butter Cream icing and shredded coconut.